Another Chinese power battery company in the United States
Invest 2 billion US dollars!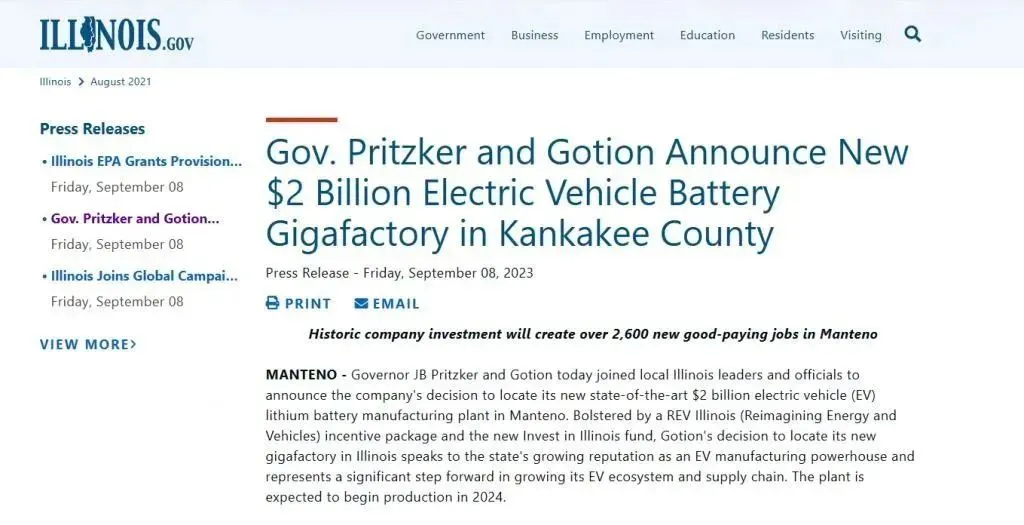 Information below is from LIDIANNAXIESHI
On September 8th, local time, the official website of the Illinois state government in the United States announced that Gotion will invest 2 billion US dollars (approximately 14.7 billion RMB) to build a new electric vehicle battery super factory in McLean County, Illinois. The factory is expected to produce 10 GWh (gigawatt-hours) of lithium-ion battery packs and 40 GWh of lithium-ion battery cells, with plans to start production in 2024. On September 10th, Gotion officials confirmed the investment project to reporters from the Shanghai Securities News. Industry insiders expressed that companies listed in China, such as Gotion, CATL, and CALB, are actively establishing overseas factories because the current overseas market represents an important opportunity for the advantageous industry chain of lithium iron phosphate batteries in China.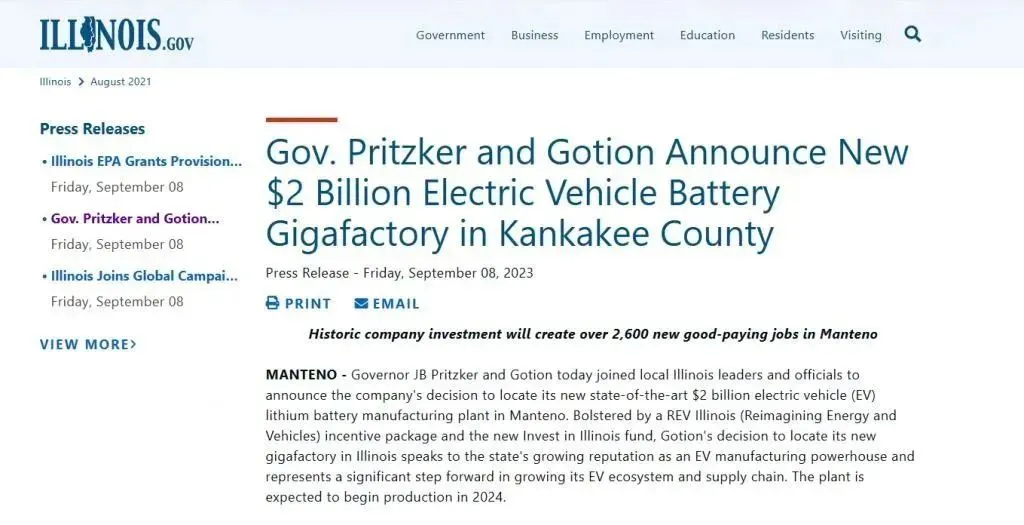 The state's largest power battery investment project
On September 8th, local time, GOTION's wholly-owned subsidiary, GOTION USA, announced in Illinois, United States, that the company will construct a battery factory with an annual capacity of 40 GWh in Manteno, Kankakee County. This investment project is the largest power battery investment project in Illinois to date and is expected to create 2,600 job opportunities in the local area.
According to the plan, the GOTION Illinois factory will focus on lithium-ion battery cell production, pack assembly, and energy storage system integration. Once fully operational, the factory will have an annual production capacity of 10 GWh for battery packs and 40 GWh for battery cells. The transformation of the factory will be carried out in two phases, utilizing an existing facility on a 910-acre site. The first phase of the factory is expected to start production in 2024. The establishment of this factory will enhance the company's supply capabilities to existing and potential partners in North America and meet the growing demand for batteries in the electric vehicle industry.
Currently, GOTION USA has received support from the Illinois REV (Reimagining Energy and Vehicles) government incentive program and is expected to become the first beneficiary of the "Invest Illinois" fund. As part of the goal to establish a comprehensive electric vehicle center, Illinois will also fund a new manufacturing training institute in the vicinity to support the development of the local industry.
"Today, with the announcement of Illinois' largest-ever investment in power battery production, we take an important step forward on our journey. We are thrilled to welcome GOTION, the world's leading battery manufacturer, to Illinois," said Illinois Governor J.B. Pritzker. "This GOTION super battery factory, creating 2,600 new jobs, represents the most significant new manufacturing investment in our state in decades – a testament to the fact that we are in a new era, and we always embrace new business opportunities with open arms."
Li Chen, Chairman of GOTION, stated that after a year-long process, GOTION has ultimately chosen Illinois as the location to build its battery factory. By the end of next year, including the first phase of the Illinois factory, GOTION's global battery production capacity will exceed 200 GWh. "With GOTION settling in Illinois, we are not building a new factory from scratch but transforming an old factory, allowing the past glory to be revived. This demonstrates our appreciation and respect for resources. We firmly believe that GOTION's battery manufacturing technology will add strength to the electrification of automobiles in North America and economic and trade exchanges between the United States and China."
Chinese leading power battery companies are accelerating their overseas expansion.
According to an insider from a domestic listed power battery company, going global has become a core strategic focus for all companies. Starting with modules and packs in the layout is a wise move because it is less challenging and demanding compared to directly manufacturing battery cells. It allows companies to quickly establish supply and service capabilities in overseas markets. Additionally, there are significant market opportunities for lithium iron phosphate batteries in overseas markets.
Regarding the rumors about Ford Motor Company and CATL planning to build a battery factory in Michigan, USA, an official from CATL responded to a reporter from the Shanghai Securities Journal on February 14, 2023. The CATL representative stated that CATL has accepted Ford's cooperation invitation and will provide construction and operation services for Ford's battery factory in Michigan, as well as license battery patent technology. Both parties will work together to provide the market with the most competitive products, leveraging their complementary strengths.
On February 14, Ford Motor Company also announced a $3.5 billion investment in establishing a lithium iron phosphate battery factory in Michigan, USA. The factory will be fully owned by Ford and is expected to commence production in 2026, with an annual capacity of approximately 35 gigawatt-hours (GWh), providing power battery packs for around 400,000 Ford electric vehicles per year. By 2026, Ford's investments in electric vehicles are projected to exceed $50 billion.
Ford stated that, as part of the plan, it has reached a new agreement with battery manufacturer CATL. According to the agreement, CATL will provide technical and service support for the production of lithium iron phosphate batteries at Ford's factory. Ford engineers will be responsible for the integration of battery cells into vehicles.
CATL and Ford have had a previous period of cooperation. In July 2022, Ford reached a battery supply agreement with CATL, where CATL would supply lithium iron phosphate battery packs for Ford's new energy electric vehicle models, including the Mach-E and F-150 Lightning.
Industry experts have pointed out that both parties have a strong driving force for establishing factories in the United States. On one hand, CATL aims to enter the North American market and believes that local production will facilitate market penetration. On the other hand, the "Inflation Reduction Act" previously introduced by the United States has reduced the cost of battery production in America. According to this act, the subsidy for each battery can reach up to $35 per kilowatt-hour, further reducing manufacturing costs. Ford hopes to use lower production costs to compete with their rival, Tesla, in terms of pricing.
"At present, the industry is in a critical development stage. Low-carbon development and win-win cooperation are the key. We are also prepared to provide support for Europe's local needs," said Liu Jingyu, Chairman of CALB, at the 2023 Munich Motor Show held recently. She revealed that CALBL's first overseas production base in Portugal is progressing according to plan, with an initial capacity of 15 GWh. The company will implement further capacity expansion based on market size and customer demand.
Liu Jingyu further stated that CALB will establish a complete operation system in Europe. The company has initiated cooperation with local enterprises in resource supply, material processing, design services, and infrastructure construction, among other areas, to build a local supply chain.
At the same time, CALB is also paying attention to the requirements of relevant European laws and regulations, implementing specific measures related to carbon footprint, battery passports, battery recycling, material regeneration and reuse, responsible supply chains, and more.
Other Articles You Might Enjoy: